1 January 2004
I finally got myself a mini mouse for use with a laptop. The 8D Scroll Ball Optical Mouse (Model MUCCB) is made by a company called Acrox. It's only now that I heard of this brand. I guess it's just one of the many Taiwanese companies who makes and sells their own ODM computer peripherals.
What's Included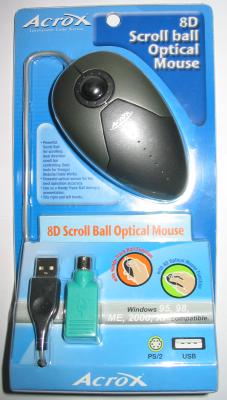 Here's what's inside the package:
corded USB mouse
3.5" utility disk
USB-to-PS/2 adapter
user's guide
Features
What's unique about this mouse is it's so-called scroll ball. Instead of a single wheel or two, it uses the scroll ball to provide vertical, horizontal, and diagonal scrolling control. I'm not sure where the supposed "8D" scrolling comes in, though.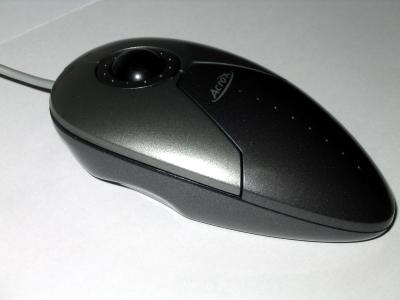 The scroll ball also allows this mouse to double as a trackball. To switch from mouse to trackball, one simply presses down on the ball and the right button simultaneously. To switch back, the ball and the left mouse button are pressed instead. This feature comes in handy when doing presentations, as it can now be used off-the-table. The design of the contour takes this into account, as Acrox placed "depressions" on the spots where you would place the tip of your index finger when you're using the mouse as a trackball.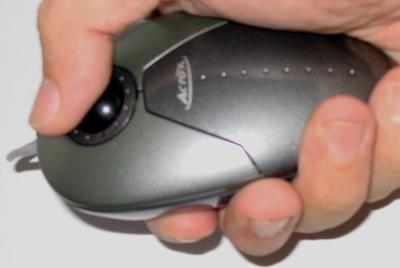 What's nice is that this seems to be a built-in feature, and can be used even if the driver is not installed. I was able to switch between mouse and trackball functions before I installed the driver in Windows. This means that this feature can be used in Linux and other operating systems. I was able to verify this with Linux. By default, it functions as an optical mouse on power-up.
The double functionality also reminds me of the cordless mouse produced by Gyration, which can also be used off the desktop using its built-in gyroscope sensor. The Acrox mouse mimics this functionality with the use of the scroll ball. Still, if I have $80 to spare, I would definitely want to get my hands on the Ultra GT if it is available locally.
As expected from a mini mouse, it's quite light and it won't add significant weight to your load when you bring it around with a laptop. Its light built makes it feel like it could easily be broken and I'm not sure if the ball shaking within its cave is normal, as I'm not really a trackball user.
The left button also feels a bit too sensitive. Oftentimes, a single click will produce the same action as a double click, even after adjusting the double-click speed. This could get pretty annoying. I have not used this mouse for gaming, so there's no reason for the left button to get broken. Since there's no problem with the right button, I just switched the functions of left and right buttons. This shows that Acrox might have some problems with the build quality of their products.
Maintenance
One of the main advantages of an optical mouse over a mechanical one, is that there is verry little maintenance needed for optical mice. The rolling mechanism of the mechanical mouse is prone to accumulation of dirt and grease, unlike the sensor of an optical mouse. Now, the presence of a scroll ball on the Acrox mouse presents a similar issue. Dust may accumulate on the ball and it's rolling mechanism, so some amount of maintenance is necessary. The ring holding the ball in place may be unscrewed, to release the ball, and reveal the "cave" which needs to be cleaned, together with the ball.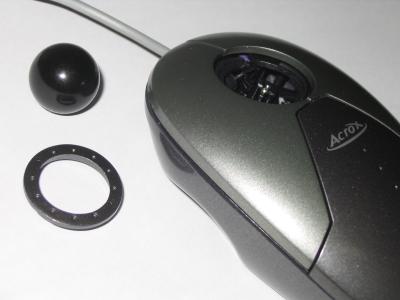 Software
The mouse utility is provided on a 3.5" floppy disk and is easy to install. It adds the aptly-named Scroll Ball and Third Button tabs in the Mouse Properties dialog in Windows XP, which allows the user to customize the scrolling function of the ball, and how it functions when pressed like a button, respectively.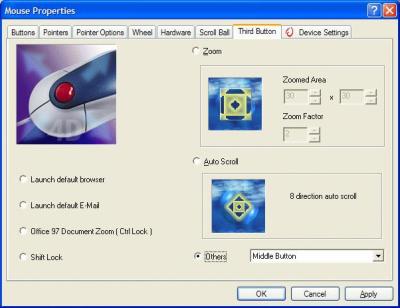 Documentation
The included documentation is enough to get you started. It has instructions for installing the mouse, installing the software, maintaining the mouse, switching between mouse and trackball, and troubleshooting.
Price
I still find the price of PhP 995 (~$18) a little expensive. It's likely that other stores sell it for a lower price. The Columbia Computer Store at SM Megamall generally has higher prices, but to its credit, it does have a wide selection of mice to choose from, unlike other stores.
Conclusion
I chose this mouse because of its double functionality, as the trackball feature will be useful when I do presentations in class. I already got tired of the trackpad, which is also useless when drawing figures. How long this mouse will last with me is yet to be seen. I'll just have to clean the ball mechanism regularly. So, if you can't afford the Gyration Ultra GT, the Acrox Mini 8D Scroll Ball Mouse may be a good alternative, as a desktop optical mouse, and also as a presentation tool.